book club pick
Wordstock works to create a community-wide discussion in Portland's book clubs to coincide with the each festival. A book from one of the festival authors is selected for clubs to read and discuss.
2012 book club pick: The Night Circus by Erin Morgenstern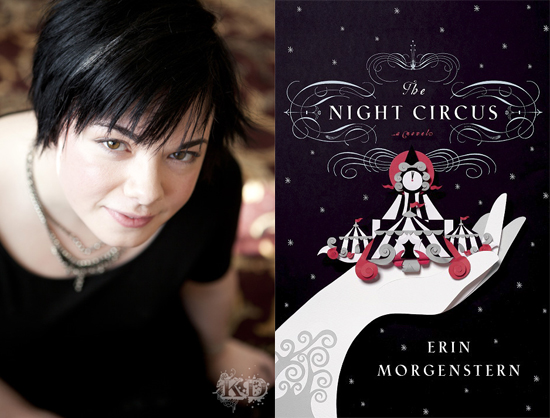 … Boys and girls, step right up to see the wonder, the spectacle, the unusual collection of words that is the fantastical, magical, whimsical Wordstock 2012 Book Club Pick: Erin Morgenstern's "The Night Circus".
"The circus arrives without warning. No announcements precede it. It is simply there, when yesterday it was not."
In this way, "The Night Circus" is a bit like Morgenstern herself. The Night Circus is her debut novel and she's already snagged an Alex Award and piles of glowing reviews. You'll understand why when you meet Celia, a five year old with psychokinetic abilities. Get your copy now, before it disappears!
Past Book Club Picks
2012′s pick was The Night Circus, up and coming author Erin Morgenstern's award winning debut novel.
2011′s pick was A Visit from the Goon Squad, the Pulitzer Prize wining novel from well-known author Jennifer Egan.
2010′s pick was Both Ways is the Only Way I Want It, the collection of 11 short stories from celebrated author Maile Meloy.
you can get your copy at